The Voices of the Indigenous People of Uganda
Harriet Adong
Uganda language policy requires rural schools to choose a dominant local language to use as the language of learning and teaching for the first three years of primary school, while English is taught as a subject. The Tepeth and Ik people face the worst case scenario with only a few elders still able to speak So Lang (an ancient language by the Tepeth slowly approaching extinction among the young generation) and Ik, while the majority have adopted Ngakarimojong and other indigenous languages. Most Tepeth and Ik children study and receive language instruction in neighboring Ngkarimojong-dominated schools. Efforts to preserve and promote the Tepeth and Ik languages, cultural heritage and antiquities are blurred with a remarkable risk of extinction if not documented and preserved.
A Request for Applications (RFA) was published for potential partners to apply for the grant award to pilot implementation of activities geared towards redeeming the So Lang language from extinction, developing sustainable cultural tourism activities and reducing the practice of Child Trafficking (CT). To augment these efforts, three projects are being implemented in Moroto, Kaabong and Napak for a period of nine months (November 2022 to October 2023). These sub-awards are part of The Voices of the Indigenous People of Uganda project, which is led by Makerere University-ResilientAfrica Network with partners Mbarara University of Science and Technology and Gulu University Constituent College.
Karamoja Youth Effort to Save Environment – KAYESE 256
KAYESE 256 is a grassroots organization founded in 2015 in Karamoja working with indigenous communities toward implementing a project on the So Lang Heritage: Redeeming Language from Extinction in Tepeth Indigenous Communities of Moroto and Napak districts. This project ispromoting the preservation of the Tepeth heritage by supporting documentation, preservation and popularization of the So Lang language in Moroto and Napak through community-based mapping of So Lang speakers, indigenous research on Tepeth cultural heritage and antiquities, development of cultural and tourism potential for sustainable livelihood diversification. The project will strengthen over 80 community-based indigenous structures.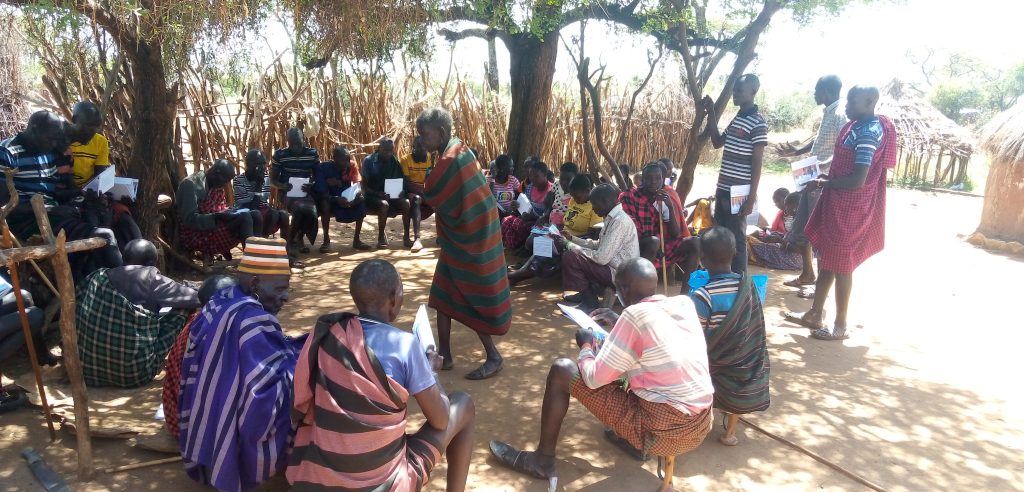 Kara-Tunga Foundation
The Kara-Tunga Foundation has been the leading promoter of sustainable tourism in the Karamoja sub-region since 2016. In this project, Kara-Tunga Foundation (KTF) will collaborate with the Ik Agenda Development Initiative (IADI) and Eye Opener Initiative (EOI) within the Kaabong Region to improve the livelihoods of the Ik community through innovative community-based tourism activities. KTF and its stakeholders will invest in the development of sustainable cultural tourism activities, relevant skilling opportunities for the Ik community and provide youth with the required training for a career in sustainable tourism & hospitality.
Child Tracking in Napak District
In 2020, Gulu University Constituent College (GUCC), together with ResilientAfrica Network (RAN), conducted research on child trafficking in Napak District, Northern Uganda. Later on, these teams documented and disseminated research findings to stakeholders in Napak, during which the main drivers and challenges facilitating perpetual Child Trafficking (CT) in the district were shared in a two-day workshop. The key drivers, identified by the research team included insecurity in Karamoja, peer influence, inadequate family support, poor parenting practices and food insecurity. The cross-cutting challenges also highlighted included poverty, gender – based violence (GBV) and inadequate access to social services, especially health and education.
To avert poverty, interventions to address it may include, but are not limited to diversification of household livelihood sources while leveraging local resources and capacities, engagement and training of the youth and child trafficking returnees in income generating activities, establishment of platforms to engage the Napak communities, elders and neighboring tribes in restoring peace in the district and safeguarding livelihood from insecurity. In addition, households in the Karamoja region have been affected by hunger and famine caused by the semi-arid climate. The region experiences frequent food insecurity partly due to poor harvests as a result of long dry seasons and poor soils. This affects both crop and livestock production.
To address CT, the Ecological Christian Organization (ECO) was selected to implement the project "Eliminating child trafficking in Napak district through integrated approaches." The ECO team is currently completing the necessary planning ahead of the onset of project activities.
By: Daniel Lowalem, Project Manager – KAYESE 256 and Kara -Tunga Foundation Email: lowalemdaniel@gmail.com ; Vincent Abura, Project Manager – Child Trafficking Project Email: v.abura@sciug.org and Harriet Adong, RAN Director Communications, Learning and Knowledge Management Email: hadong@ranlab.org
For additional information, please contact:
Project Principal Investigator: Roy William Mayega, Deputy Chief of Party, Makerere University School of Public Health-ResilientAfrica Network (RAN), Email: rmayega@ranlab.org
Project Co Principal Investigator: Dr. Sidonia Angom Ochieng, Chairperson Gulu University Constituent College, Email: sidoniaa@yahoo.co.uk
Project Co – Principal Investigator: Julius Ssentongo, Director Resilience Makerere University School of Public Health-ResilientAfrica Network (RAN) Email: jssentongo@ranlab.org