Informing the U.S. Congress and World About How a LASER Project Helps Revive and Strengthen Traditional Cultural Practices in Iraq
Ross Meyers
With the development world littered with large, expensive projects, would a small, locally-led intervention attract much attention? Would people want to hear about it? On June 13, 2023, Notre Dame held an update meeting at their Keough School Washington DC Office, briefing DC decision-makers on LASER's project that supports traditional agriculture in northern Iraq. The following day, the research team visited Capitol Hill to brief lawmakers on the impact the program delivered.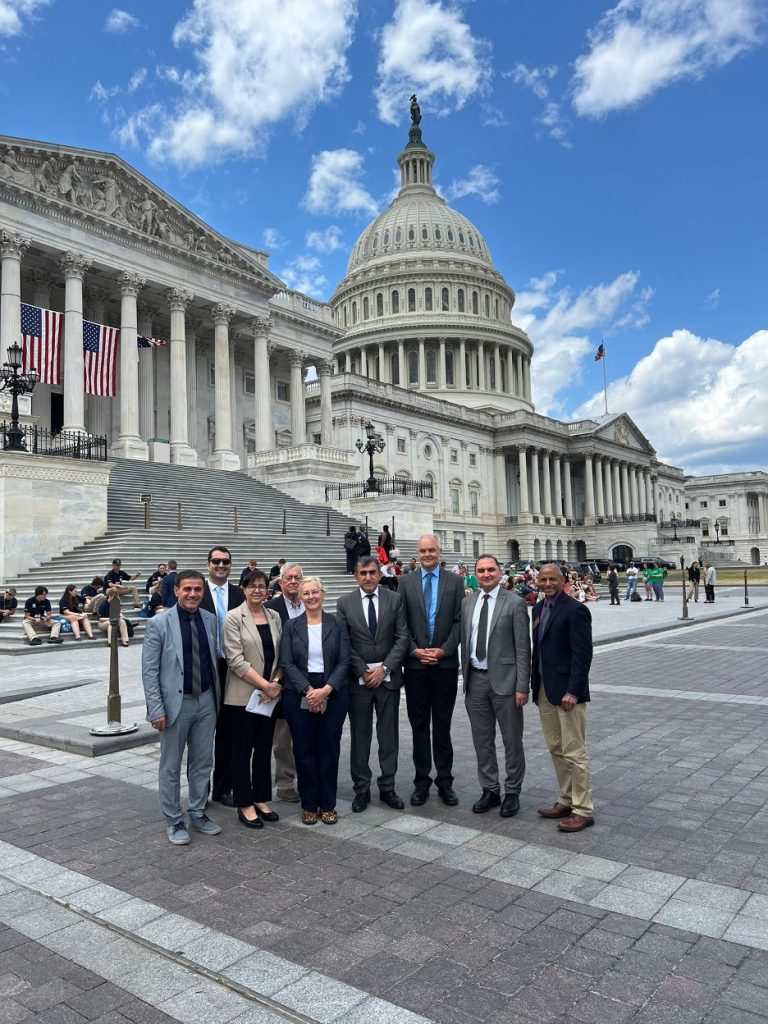 The research team had much to share after working together since November 2019. They introduced their ethnographic research in the region, discussed the way they had cataloged wild plants in the region, released their olive oil market analysis, and reported on their activities to build social cohesion across the region.
For me, the team caught my attention by describing how the research began with people's identity; they asked them what was important to them, talked about ISIS's impact on their cultural practices, and asked them what improvements would help them feel secure in their homeland. From there, interventions were designed. This development work didn't ask people to overlook their identity in order to engage. It honored who people were, supported that, and used it as a way to move forward. Only with a good grasp on these things did the team move forward, with implementation driven by a strong local partner, the University of Duhok.
USAID representatives, Iraqi embassy personnel, a representative from the Kurdish delegation in the US, as well as northern Iraq media were all present (Rudaw News, Kurdistan 24, and Kurdistan TV). The VOA's Kurdish channel also interviewed representatives during that week.
Towards the end of the afternoon, the event closed with a panel including SIPRI's Shivan Fazil, University of Duhok's Omran Omer Ali, USAID's Deputy Assistant Administrator Henry Bader, and Pepperdine's Program on Global Faith and Inclusive Societies' Knox Thames. On the theme of identity, Thames talked about the importance of culture, saying that the US State Department had pushed in recent years for culture to be elevated in development work, and pointed out that after people's basic needs were met, the next most important factor to helping them feel at peace was having secure places of worship. Shivan Fazil discussed the need for a stronger civic identity across northern Iraq. Iraq's future success seems to hang on whether those two facets of life can coexist well.
For me as a research project manager, the major theme of the day was one of dialogue about peoples' identity and loss, and the localization of interventions, with strong focus on growing community. To me, development done well starts with who people are, affirms that identity, and then calls them to stronger participation. This project didn't impose conformity or abstraction, but instead acknowledged and appreciated peoples' differences, then helped communities move together toward their preferred future.
The next day, the team went to Capitol Hill to interact with Senate Foreign Relations staff, and the offices of Indiana's senators. The Iraqis came out of meetings saying 'We couldn't believe how much some of these staffers knew about our region.' The Congressional Staff, in turn, honed in on the messages of community-level peacebuilding and accountability in Iraq. More than one office told them "your team accomplished a lot for the amount of money you used."
The team left DC thankful that so many people had connected with their message and wanted to hear their results. During Congressional visits, Tom Purekal from Notre Dame's Pulte Institute summarized the project well when he said "No one lives in only one element. People's lives occupy many different spheres: ethnic, economic, health, faith, and more. That's why this project was so important; it pushed for development that factored in people's full identities and took a significant step in uniting communities.'