OUR SISTER & PARTNER NETWORKS
The Food Security and Nutrition Network engages community members through a knowledge hub at FSNnetwork.org, where development and emergency food security practitioners can share knowledge, resources, and promising practices.  As we learn from each other, we identify gaps and develop solutions, thus propelling the field of food security and nutrition programming forward to maximize impact.
 
FSNnetwork.org is run by the Implementer-Led Design, Evidence, Analysis and Learning (IDEAL) activity, funded by the USAID Office of Food for Peace (FFP).  IDEAL consists of a consortium of four partner organizations: Save the Children, the Kaizen Company, Mercy Corps, and TANGO International.  IDEAL addresses knowledge and capacity gaps expressed by the food and nutrition security implementing community to support them in the design and implementation of effective development and emergency food security activities.  FSNnetwork.org is the hub for IDEAL's work.  You can create a user profile and subscribe to our newsletter here.
---
The Household Water Insecurity Experiences – Research Coordination Network (HWISE-RCN) is a community of scholars and practitioners who research and work in the interdisciplinary field of water insecurity. The network is dedicated to building a community of practice that fosters key analytics and theoretical advances coupled with the development of research protocols and standardized assessments to document, benchmark, and understand the causes and outcomes of water insecurity at the household scale. 
Recent success includes the development of a cross-culturally validated household water insecurity scale for low-and middle-income countries, and its uptake by researchers, multilateral agencies (e.g., UNESCO), and development organizations, such as Oxfam.  Our collaborative research also offers novel insights on the relationship between water insecurity and food insecurity, health impacts of water insecurity, and how water technologies, practices, institutions, and organizational forms shape household water insecurity.  New collaborations with Feed the Future and IFPRI open new avenues to explore the interrelationship between small-scale irrigation, household water insecurity, and food security in West Africa.
The RCN advances research about the experiences and assessment of HWISE through collaborations and creates a network of members that supports scientific discovery and professional development.  We conduct workshops that foster research and engagement to address the most pressing challenges around household water insecurity.  The network actively promotes its members through newsletters, twitter, and blog. 
The HWISE-RCN is a National Science Foundation-funded collaboration with over 66 scholars from 25 U.S. and international institutions across career spectrum and social science disciplines.  Join our listserv and newsletter mailing list to stay updated on our activities.
---
 With  22 years of experience and $4.5B in programs monitored across 95+ countries, with 26+ clients, QED is a leading organization focused on integrating the use and understanding of data to drive policy, programs and decision making. Our focus is on data literacy and data use as well as building capacity.  In 2017 QED created a data hub team and in 2019 launched the Center for Global Data Visualization (CGDV). CGDV is a virtual center that brings together university students, the private sector, and key stakeholders to increase capacity, build a culture of data use and use data analytics to drive effectiveness in global development.  
QED's CGDV has held three successful hackathons in 2019 in the US and around the world, hosted 2 trainings with local universities and NGOs in data use and data visualization in India and Addis, collaborated with 23 universities and held successful events in  Asia, Africa, North America. CGDV has registered almost 500 users and has partnered with US universities including Georgetown University, George Washington University, Emory University, and Boston University. 
---
Research Outreach is a communication agency specialising in research. We work with research teams to craft a message for the world. Using Creative Commons licensing means we can give back to the community. We distil complex research into professional and easily understood text, imagery and video. We share this content around the world with no payment required to access, download or share. Our content is funded by the research institutes and projects we serve, like many other agencies. Our work is verifiable and carries meaningful public outreach impact, whilst leaving the community with valuable content to share freely. It begins with us, but ends with you…
---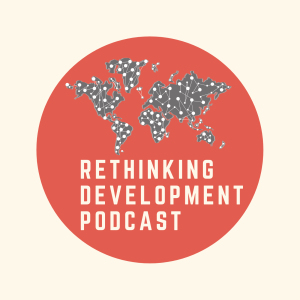 Launched in 2019, the Rethinking Development Podcast is a platform for international development and humanitarian aid practitioners to share their lived experiences and personal reflections on ethical issues, systemic challenges, and lessons learnt throughout their career in the sector. To date the podcast has produced two seasons of over 25 episodes featuring insightful conversations with a range of practitioners of different ages, backgrounds and affiliations around the world. Conversations often address navigation power dynamics, lack of diversity and representation in positions of leadership, working with diverse stakeholders, negotiating partnerships, measuring impact, learning from mistakes, doing no harm, building trust, ensuring accountability, rejecting saviour complexes, racism, sexism and other forms of discrimination, and much more. It is available for listening on 12 podcast platforms (such as Apple Podcasts, Spotify, Google Podcasts, Stitcher, Castbox, Podcast Addict and others). Connect on LinkedIN too.
---
Gendered Innovations harness the creative power of sex and gender analysis for innovation and discovery. Considering gender may add a valuable dimension to research. It may take research in new directions. 
The peer-reviewed Gendered Innovations project: 
1) develops practical methods of sex and gender analysis for scientists and engineers;
2) provides case studies as concrete illustrations of how sex and gender analysis leads to innovation.
---

The United Nations' Sustainable Development Goals (SDG) reports have recognized the pivotal role of data and technology in advancing the range of issues critical to the SDGs. Despite this recognition, there has been relatively little understanding or alignment within the development sector about the specific technologies needed, the applications of those technologies, and the business considerations in deploying them towards sustainable scale. Further, there has been limited exploration or implementation of new models that re-envision the end-to-end process of getting promising technologies to market in scalable and cost-effective ways.
To advance these fronts, the Institute for Transformative Technologies and its partners have published the 50 Breakthroughs report to identify the most important science and technology breakthroughs needed to achieve the SDGs. Based on a rigorous analysis of each of the issues affecting the global poor—health, food security and agriculture, education, human rights, gender equity, digital inclusion, access to energy, water security, and resilience to global change—the study analyzes the role of technology in the context of policy reform, infrastructure development, technical capacity building, and business innovations.
First published in 2015, the 50 Breakthroughs report has become an influential body of work that is relied upon by researchers, investors and entrepreneurs. In 2019 the report was thoroughly updated and expanded, based on analysis of the progress made towards the SDGs and the challenges that still lie ahead. The 50 Breakthroughs report serves as an evolving science and technology complement to the SDGs, as a periodic publication to mobilize research institutions, funding agencies, private sector players, government actors and the broader technology-for-development ecosystem in bringing needed innovations to life.