LASER Focused Webinar Series - February 9, 2023 - A Workshop on Guiding Questions to Plan for Research Translation
A Workshop on Guiding Questions to Plan for Research Translation 
We welcome you to participate in our  LASER Focused event, a workshop on Guiding Questions to Plan for Research Translation, Feb. 9, 2023 @ 9AM EST/5PM EAT. Catholic Relief Services' Dr. Alexandra Towns and Dr. Laura Riddering will provide an overview of a workbook that outlines a concise process to use five guiding questions to develop a research translation strategy, implementation plan, and monitoring and evaluation plan. Academic researchers, development practitioners, and donors can use this workbook to strategize and plan for research impact. 
Register here: https://iu.zoom.us/meeting/register/tZIpcOigrjguEtDezINdTd0wZEnh5k_2TxjF
Download the workbook in advance to effectively plan for research translation in your work.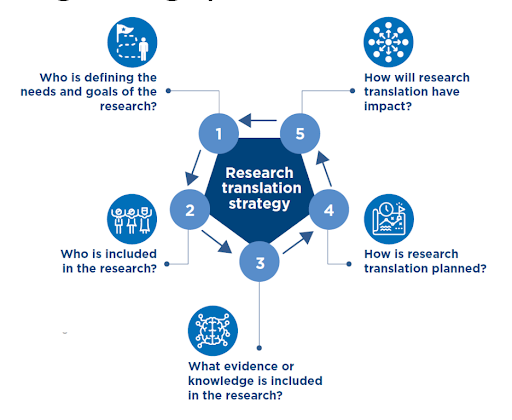 ALEXANDRA TOWNS, PH.D.
RESEARCH TRANSLATION STRATEGY LEAD
Dr. Alexandra Towns is the Research Translation Strategy Lead with Catholic Relief Services (CRS), focusing on developing and implementing LASER's research translation strategy, with an emphasis on practitioner engagement. Alexandra has worked for CRS since 2015, advising on research and university collaborations to improve the programming in the 100+ countries where CRS works. Dr. Towns has also led assessments on African indigenous vegetables for CRS food security programs in Madagascar, Malawi, Niger, Uganda, and Zambia and teaches as an adjunct professor at Towson University. Prior to joining CRS, Alexandra worked at Naturalis Biodiversity Center, researching West African plant markets and African plant-based medicine for maternal and infant health. Alexandra holds a PhD from Leiden University and a MS from the University of California, Davis.
LAURA RIDDERING, PH.D.
RESEARCH TRANSLATION ADVISOR
Dr. Laura Riddering is the Research Translation Advisor with Catholic Relief Services (CRS), focusing on the design,  development, and implementation of tools and platforms to increase collaboration between practitioners and researchers. Dr. Riddering completed a Ph.D. in Geography & Environmental Science from the University of Maryland, Baltimore County (UMBC) and a M.A. in International Development & Social Change from Clark University. In graduate  school she conducted qualitative research with artisans and coffee farmers in cooperation with nonprofits in Guatemala to examine how actors in civil society work together transnationally to improve livelihoods. Previous to graduate school, Laura worked with the International Union for Conservation of Nature (IUCN) in Switzerland and Peace Corps in Guatemala.